The autumn breeze blew away the heat of summer and brought great changes to everything around us. The colors of nature gradually become monotonous. By choosing different wig products, getting in touch with new things, and having newer experiences, we can make our mood happier and get into autumn faster! Are you ready to pick your hairstyle?
If you have difficulty deciding between a full dye and a highlight, go for the highlights. The highlights will make your hair more attractive, spiritual, and special. And because the highlights only dye part of the hair, you can choose more colors.
There are many other colors besides blonde highlights. Colors you normally like but are afraid to try can be boldly presented with highlights. That's why I think pick dye and fall are a perfect match. This can add more fun to the monotony of autumn. Combining the two factors of autumn and highlighting, we recommend five wigs.
1. Body Wave Honey Blonde Highlight Wig
Body Wave is a hairstyle that never goes out of style, and wearing this wig can make one sexy and gentle. This hairstyle has an overall dark brown color, with the front of the hair picked out and dyed blonde. This design makes the hair very streamlined, smooth, and with plenty of volumes. Dark brown hair can have a great age-defying effect, and the brown color can also diminish the lines of the face, giving a more intimate and soft visual effect.
Dark brown is calm and airy, perfect for the cooler autumn days. The highlighting also adds vibrancy to the hair. The clever combination of the two has won many people's favor and love. If you have never tried Body Wave Honey Blonde Highlight Wig, you might want to give it a try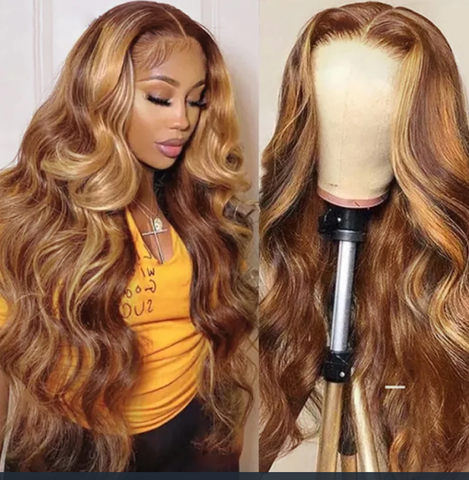 2. Curly Honey Blonde Highlight Wig
The hair color of this hairstyle is similar to the first one, which is also dark brown with a small number of blonde highlights. This hairstyle is very flattering to the face, giving a more youthful look and making the features appear more defined. Curly hair is visually warm and feels like fluffy cotton. It is more suitable for the sluggish autumn. Visually, it adds a touch of warmth to autumn.
3. Body Wave Rose Red Highlight Wig
Black hair picks dye red, more charming and attractive. Red is a very seductive color, and many women love red. Red and black together can make red more flamboyant and look more charming and attractive.
A lot of women choose red when they choose to pick a color to dye. Because red is the perfect color for women, it can make the soft beauty of women be reflected. And it makes one's temperament more soft and feminine, looking very generous and charming. If you also want to choose a pick-dye hairstyle but do not know what color to choose, pick dye. Then, choosing red is also a good choice.
The combination of Body Wave and red makes people look brighter and more beautiful, and the two complement each other. It adds to the endless possibilities for fall.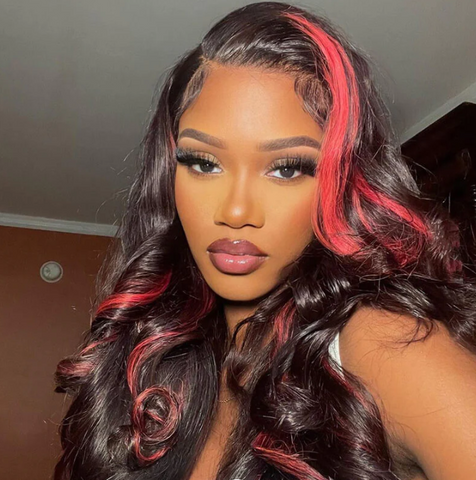 4.
Straight Hair Highlight Wig
The invisible hair dye is to dye the hair at the corners of the ears to a more prominent and bright color. It is not obvious when the hair falls down naturally. When the hair is lifted behind the ear, it gives an unexpected highlight. It's understated, stylish, and creative, making you beautiful and unique.
The black hair with highlights is more in line with the main color of autumn. Whether you are wearing earrings or moving your hair, you will be able to attract the attention of others. The overall look nicely sets off the trend of fashion, understated but never ordinary. The invisible hair color is like a glimmer of light walking in the dark classic. Low-key, but at the same time, you can become the most beautiful beauty in the crowd.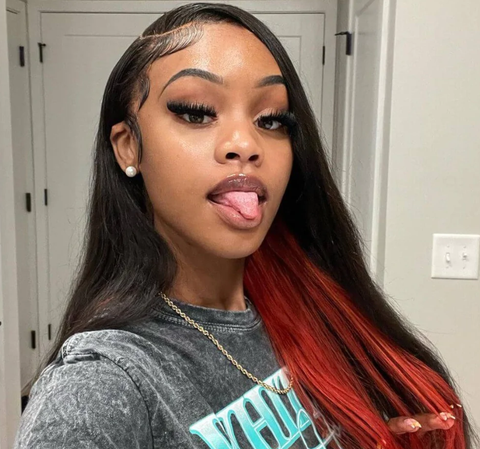 5. Highlight Brown Bob Wig
The hair length is available in three lengths of 10,12,14 inches and looks chic. Using natural human hair as a wig gives a natural and realistic aesthetic. Louis XIII used a modern bob wig to cover his baldness. By the late 17th century, wigs and handmade lace headpieces were popular in the everyday fashion of both European and North American high society.
The gold pick dye added more layers to the overall hairstyle, and the overall color echoed the fall colors of the leaves. It is also a great choice for fall wigs.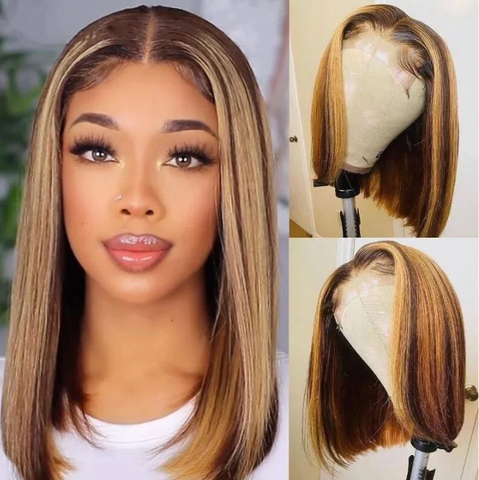 6. Body Wave Green Highlight Wig
This is a new highlight color. Different from red or blonde highlight, green gives people a sense of vitality. When everyone is wearing blonde or red, if you wear a green one, you will definitely stand out in the crowd. If you are a fashion seeker, this one must be suitable for you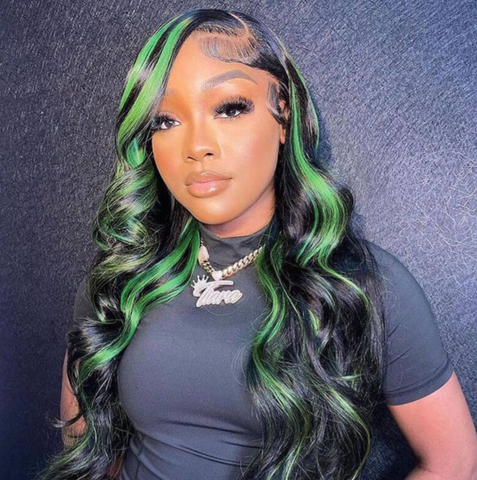 Conclusion
Listed above are the options to stay with the kind of fall pick and color hair type. You can choose according to your preference. I hope this article will help you choose the right wig for you and help you make the right choice for you. If you have other ideas, please contact me, and I welcome your suggestions.
Get same hair: