As the weather is getting hotter and hotter, more and more people fall in love with short hair this summer. Short wigs seem to have become more and more popular as well, such as short bob hair wigs, finger wave wigs, etc. Today we want to discuss the pixie hair cut wig, a wig style widely loved by celebrities. If you are curious about this hairstyle and want to know whether it is suitable for you or not, this blog will help you to know more about pixie cut wigs.
A pixie cut is a short women's haircut you typically see on a fashionably gamine woman. A pixie cut wig is a wig about half an inch to 3-inches in length. It may either be one length or cut shorter on the back or sides and longer on the top. And pixie wigs provide many cute ideas of pixies for most face shapes, including cute pixie cuts for round faces.
Pixie haircuts became popular in the 50s, after the premiere of the Roman Holiday featuring the charming short-haired Audrey Hepburn. Moving to the modern-day, many celebrities have tried pixies, too, such as Katy Perry, Cara Delevingne, Pamela Anderson, and Miley Cyrus, among others. Pixie wigs will refresh your stylish look this season!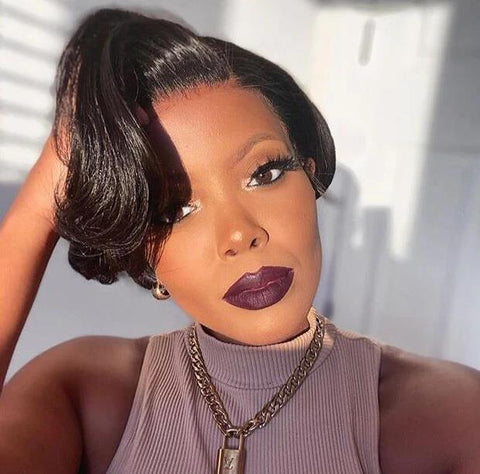 Why You Should Choose A Pixie Cut Wig?
If you are ready for a short crop, here are some reasons to choose a pixie haircut wig:
1. Refresh Your Style
Short pixie cut wigs are wonderful hairstyle ideas for women of all ages, hair textures, and face shapes. Modern styles of pixie cut wigs styles are not limited to modest boyish 'dos. You may indulge in a variety of pixie hairstyles with slicked back or tousled hair, try a curly pixie cut wigs, asymmetrical vintage 'dos, or funky Faux Hawks. Short and long pixie haircuts with bangs are the most popular short hair choice nowadays. You can pick a new hot version to refresh your stylish look this summer.
2. Practical
The biggest advantage of short pixie haircut wigs is that you don't need to spend a lot of time washing, conditioning, and styling the wig. You can even easily get a stylish pixie look with just some hair gel and styling spray, which is perfect for lazy mornings.
3. Expressive
A pixie haircut perfectly frames the face and makes cheekbones pop. Structured haircuts with lots of layers are perfect. Pixies are also a bold fashion statement used by feminine women who dare to stand out from the crowd.
4. Cost-effective
Another advantage of short hair is that the price is more affordable. Therefore, compared to long hair, short hair is more friendly to girls with limited budgets. At the same time, a high-quality human hair pixie cut wig will last longer while they are natural enough to meet your styling requirements. You can bleach and dye them and use heat tools to make your inspiration come true.
Some Trendy Pixie Cuts This Summer
A pixie haircut is a great solution for a contemporary woman on the go. It's convenient, pretty, and appropriate for hair of any type. Here are some trendy pixie hairstyles recommended for you.
1. Side Bangs Pixie Haircut
This pixie hairstyle features long side bangs. You can choose to show the more confident half of the face, while the bangs can also help hide some of the blemishes of the face. This hairstyle is better for cool girls.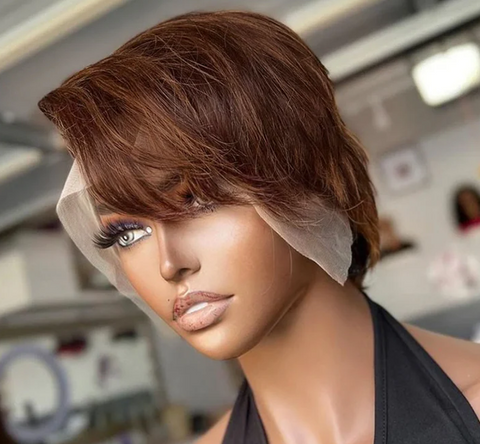 2. Side Part Pixie Hair Cut
This extremely short pixie haircut is perfect for backless outfits so that it will look more confident, bold, and elegant. It will bring out your facial features completely. If you want a bold hairstyle then this hairstyle is perfect for you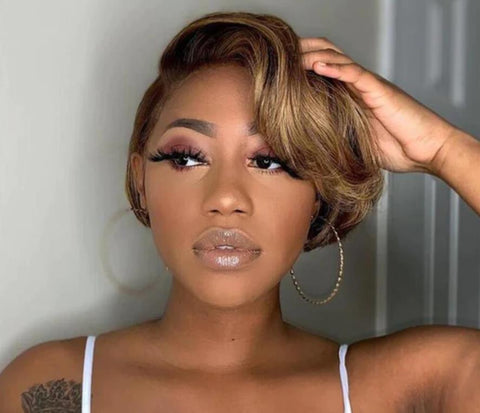 3. Curly Pixie Hair Cut With Bangs
A pixie-cut hair wig looks fluffier and more voluminous than straight hair. It will make you more lovely, you can try it on any face shape.