Have you ever been attracted to bangs? For some girls, a craving for bangs hovers in the back of our minds all the time. Cute and cool bangs always seem like a great idea. But many of us are afraid to make the cut and change our hairstyles. More and more girls have begun their love affair with bangs. In effect, if you are attracted to bangs but not sure whether getting bangs is a commendable change, a human hair wig with bangs is a good option to try. And to help, we offer a few important things to consider when it comes to making the big "bang" decision.
What Are Bangs On Wigs?
Bangs refer to the hair at the front of the wig. You can find lots of wig styles that incorporate bangs. Maybe you have heard that bangs are hard work because you have to trim them constantly. However, the wig hair will not grow back like your natural hair, which means you don't have to make any changes to the bangs anymore once you finished trimming it. Compared to cut bangs on your natural hair, a human hair wig with wig bangs can help save much time.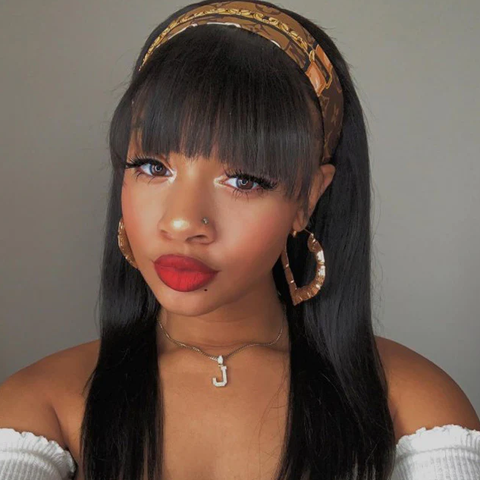 What Are The Benefits Of Having Bangs?
Changing hairstyle is a feasible and immediate method to make your face look totally different. Followings are the advantages of having bangs.
1. Change Your Overall Look
Bangs are the easiest way that can dramatically change your appearance, which can help to frame out the face and give a more flattering look. Besides, bangs can actually take years off your appearance.
2. Add Volume
If you want to add volume and movement to your hairstyle, bangs are one good idea. Even if you pin back your hair, bangs will look like you have done more than you have with your hair. It is time to stop struggling with flat and lifeless hair and perfect your signature hair flip.
3. Hide The Blemishes On Your Skin
If there are some pimples or any blemishes on your forehead, bangs can help cover them. For over-pluck eyebrows, bangs are your friend. But it should be noted that bangs cannot solve skin problems instead medical treatment.
4. Various Options To Choose
There are many options for you, such as a blunt, fringe, side-swept bang, and so on. If you have a longer face, choose a soft style or a long side-swept bang. For the woman with a rounder face, a straight-edged bang is a better choice. A heavy fringe with longer side pieces that graze your cheekbones will be suitable for a round face as well.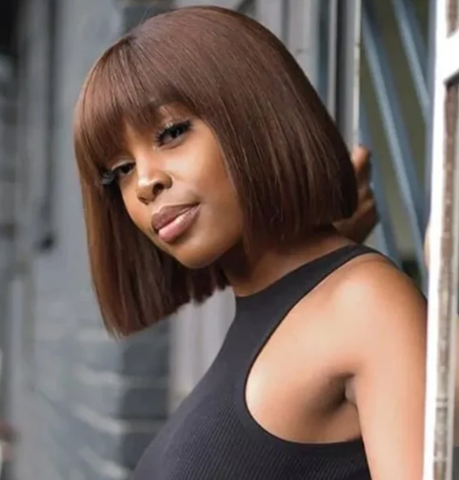 How To Cut Bangs On A Wig?
Before cutting, get sharp scissors and get your wig ready first .
1. Prepare Your Wig
Put your wig on a styrofoam head and align the wig on the head so the forehead is roughly the same height as yours. We suggest you can try on your wig first and make sure the bangs length you want, and then use bobby pins to mark the place. And remember to tie back the hair to avoid cutting the other hair by mistake.
2. Comb The Bangs Forward
Use a rattail comb to brush the bangs of your wig straight down. If you want to frame your face, leave 1 inch or so slightly longer hair on the sides. If you prefer extra-long bangs, cut off the extra hair from the ends. After your bangs are sectioned off from the rest of the hair, make a blunt chop straight across 2–3 inches past your eyebrows to make your bangs easier to work with.
3. Straight Wig Bangs
Split your bangs into 2 equal sections and comb them. Pinch the section between your index and middle finger, and then make small vertical snips, making sure that the scissors are parallel with the hair. Because the change on a wig is permanent, only trim off 1⁄8–1⁄4 in (0.32–0.64 cm) at a time. Move on to the next section when you finish trimming the first. And remember to match the length of both sides for a precise, straight style.
4. Side-Swept Wig Bangs
Choose to angle your bangs toward the side you prefer. To easily trim the bangs on your wig, adjust the hair the opposite way so you can make a clean, sharp cut. Then hold the hair with your index and middle fingers at a 45-degree angle. Next, make small and vertical snips across the length of your finger. Once you finish trimming your bangs, brush the bangs forward using a rattail comb to check if they are the right length and shape.
Hot-Selling Human Hair Wigs With Bangs In Arabella