Wavy hair is always attractive. Especially for the girls always keeping straight hair, rather than just resorting to ponytails or sleek buns, it's time to figure out how to get some waves into your hair. A wavy hairstyle is definitely a good option. A wavy style can give your hair more movements and make it look fuller. Well, to make it look really nice, you still need to put some effort into your wavy hairstyle. In this blog, we will give you full guidance on how to get wavy hair with straight hair.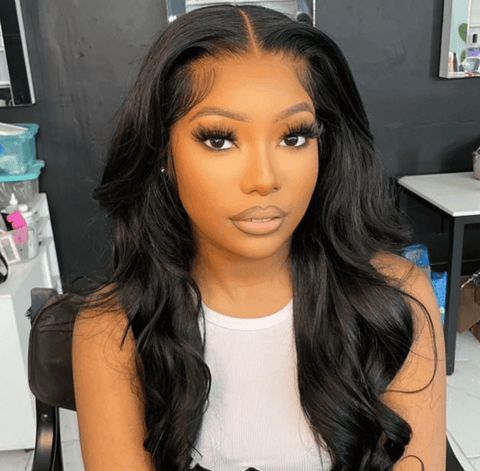 How To Make Wavy With Curling Iron?
This is the most common method girls use to make wavy hair. First, you need to consider tightening or loosening waves you like, which is very important because this is related to the heat tools and the curl method you will need. Plus, if you choose this method on your wig, a human hair wig is better.
1. Choose The Curling Iron
The thinner curling iron is often used to create tightened curls, and the thicker curling iron can help create more loose movement like body wave hair. So, decide what kind of wavy hair you want, then choose the suitable curling iron for you.
2. Apply Some Hair Protectant
Damp your hair with your protectant and roughly blow dry it. You can also run some hair products through your strands before you start curling. But do not apply too heavy conditioner, or your hair is likely to fall flat faster after curling. It should be noted that you'd better work with smaller sections that will better define the curl and allow for an even distribution of heat.
3. Start Curling Your Hair
Start from the lower sections. Twist a strand of hair around the curling iron barrel. And after finishing curling a strand of hair, don't handle or tug on the curls as they come off the iron. Please let the tight curls cool completely, which is necessary to make your wavy hair last all day. You can cup them in your hands for 10 seconds or roll them up and clip them with a pin until cool to prevent them from loosening too quickly.
4. Comb Your Hair
When the hair has completely cooled, apply some hairspray to help keep the style. Then, flip the hair upside down and shake your curls out. Then gently comb your hair with your fingers to simply blend the texture and stretch the curls out a bit, which will make your wavy hair look more natural.
How To Make Straight Hair Become Wavy Without Heat?
As we know, repeated heat styling can damage the hair. Therefore, many girls prefer the natural ways to make straight hair wavy. Therefore, about how to make straight hair wavy naturally, we will introduce 3 methods for you.
1. Wearing Braids Overnight
Start by washing and conditioning your hair. Add curl-enhancing cream or mousse to your hair when your hair is 75% dry. After the hair is completely dry, separate your hair into 4 or 5 chunks. Braid each one loosely and use a rubber band or bobby pin to hold each end. Twisting your hair instead of braiding is a good option as well. Then go to sleep in your braids. When you wake up in the morning, gently undo the braids in your hair and you will get natural wavy hair. Last, add some hairspray to hold the shape.
2. Salt Spray
With this method, you need to make a salt spray. 1 cup of hot water, 1-2 teaspoons of sea salt, 1 tablespoon of coconut oil or argan oil, and 1/2 teaspoon of leave-in conditioner, mix all of them in a clean spray bottle and shake up the ingredients. After washing and drying your hair, spray liberally all over your hair. Flip your hair upside down and get the underside of your hair as well. Then scrunch your hair with your hands. Next, twist your hair with a headband or braid your hair. Release your braids until your hair is completely dry. Apply some styling cream to your hair.
3. Pin Curls
Comb your hair from roots to ends to remove all tangles and divide them into more sections. Roll each section into large pin curls, and secure it with a hair clip or pin. You can also attach the hair with small strips of fabric and tie up the curls. Once you have completely dry hair, remove the pins and comb the hair with your fingers or use a wide-tooth comb to break the tight curls apart. Now, you have gotten your nice and loose wavy hair.
Conclusion
Wavy hair is always charming. If you are planning to get a wavy hairstyle, try the four methods we introduced in this blog. Of course, if you are not sure whether you can deal with the process perfectly, getting a wavy hair wig is also a good choice.