If you want some extra hair to cover the thinning parts of your hair, V Part Wig is the perfect solution to provide a gorgeous and natural transformation. It helps to mask top imperfections, turning short, sparse hair into long, thick hair that is attractive. V-shaped wigs are more natural and easy to install and can be used in any style you desire. There are 3 steps to help you understand the V Part wig in detail.
What Is A V Part Wig?
You may not have heard of the term "V part wig," but the concept isn't entirely new. A V Part wig is a new type of U Part wig. The designer improved it on the basis of the U Part wig. Its part shape is displayed as "V", so we can also call it a V Part wig.
The tracks of the weave are sewn onto a wig cap with an opening. The opening of the wig is left for your natural hair to go through. You can blend your own hair through the v-shaped opening at the top of the wig, then create a natural hairline.
Why CHOOSE A V Part Wig?
1. Natural appearance
This wig is perfect for women who want their wigs to look more natural and realistic in real life. V part wigs have no bulkiness or unnatural bumps because they have no weft on top, or because the weft is so thin, unseamed, and flat that it is impossible to detect. You can wear your own natural hairline and really part it, without missing or just some fine strands of your hair.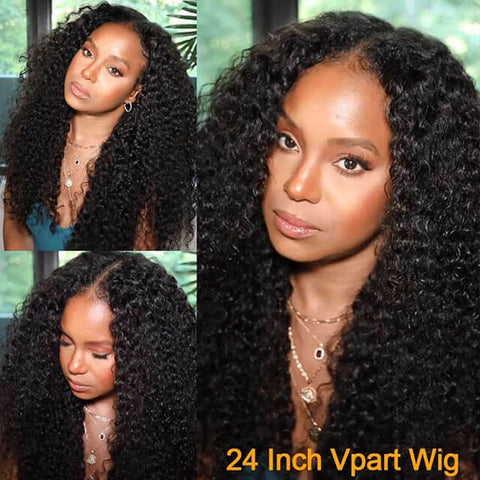 2. Flexible hairstyles
You are free to make partial or middle parts as you like. You can also add accessories to experiment with different styles, such as headbands, barrettes, etc.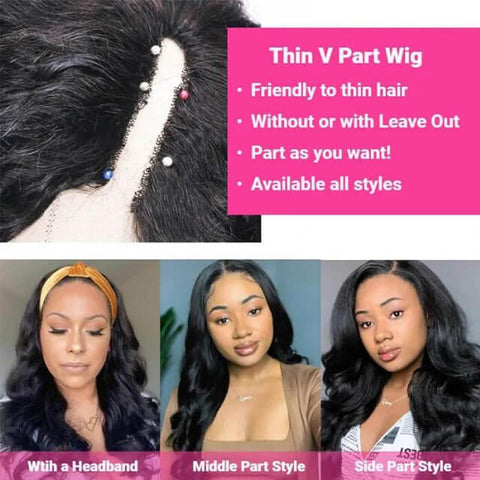 3. No glue, no lace
The V part wig is made 100% of human hair, without glue or even any synthetic material. You don't need to trim and hide lace closure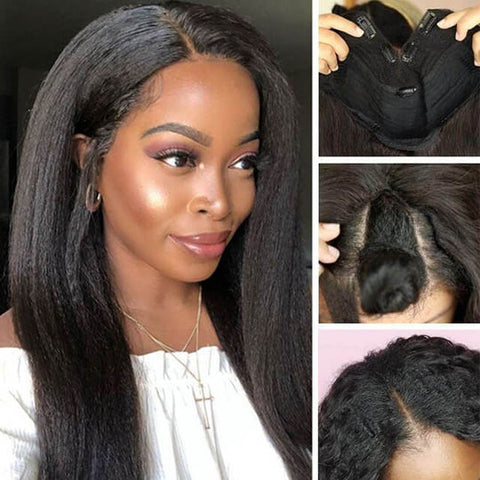 4. The Advantages compared with U Part Wig
The main difference between V part and U-part wigs is that V part wigs don't require any leave-out to wear. The V part wig has a v-shape opening, while the U part wig has a u-shape opening. V Part wig is easier to install and more comfortable than U part wig.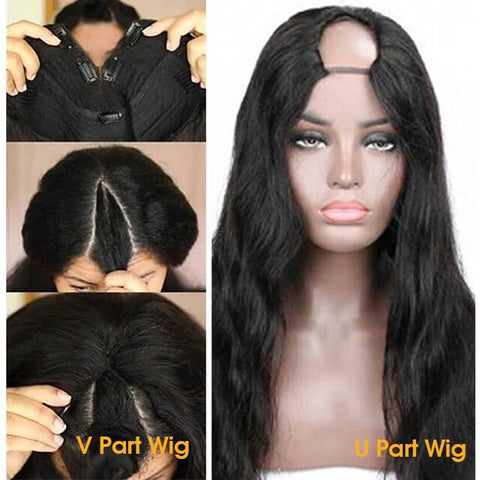 How do I install a V Part wig?
Step 1: Braid your hair into cornrows, making it as flat as possible.
Step 2: Put on your wig and attach it into place with the adjustable straps and clips to get the best fit.
Step 3: Brush Again the hair to cover up the opening of the V part wig
Step 4: You should match the hair wig texture with your natural locks. You could do a middle part, left part, or even pull the hair back if you want. Opt V part human hair wig to wear, you can style it as you want as it is flexible and durable.