In the golden autumn, the weather is getting cooler and cooler, and with the change of seasons, a new autumn hair color trend will inevitably usher in. An elegant and charming collection of human hair wigs is the most desirable line of human hair products ever! So today we will mainly talk about one of the most suitable hair colors in autumn - Reddish Brown Wigs. For girls who want to change their hair color but have never chosen to try it, this hair color and style will make you like it.
1.What Is Reddish Brown Wig?
Reddish brown is a #33 color, it also is called auburn, red-brown is a combination of red, blue, yellow, or red and black in a certain proportion, different proportions of colors show different shades of reddish-brown. It is suitable for all ages and complexions.
The red-brown wig is made from raw human hair material. It is a lace front wig with a natural hairline, and it has been pre-plucked. Arabella hair offers very good quality high-density wigs at reasonable prices. This wig is also light on your head, giving you a stylish and beautiful look.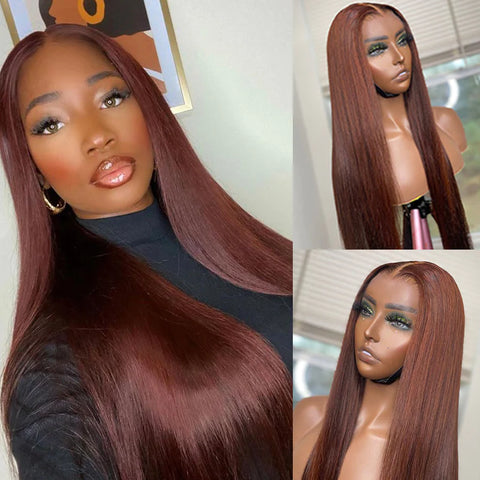 2.Varieties Of Reddish Brown Hair Wig
The reddish brown color comes in a wide variety of shades from the very darkest to the lightest brown, shades of red hair include:
Dark Red:

a red color that reflects little light, dark red close to wine red, Dark red with a little purple, more gorgeous.

Purplish Red:

it is also called Maroon red, it is a kind of dark red, it is warm and solemn, and maroon red symbolizes loyalty.

Carnation:

light red

Rose Madder

Passionate Reddish-Brown:

it looks like orange-red outdoors

Maple Reddish Brown

Bambi Warm Reddish Brown:

easy to control without picking people, in addition, it will reveal a slight red feeling in the sun, whether it is shiny or matte, the texture is quite beautiful!

Mulberry

Pale Peach Roses:

symbol of modesty

Reddish Orange

Fuchsia brown berry color:

based on reddish brown, add a little purple tone, which can be modified for girls with dull skin tones.

Fuchsia Red

Geranium Pink
3.The Benefits Of The Reddish Brown Wig
With the continuous change of aesthetic trends, the choice of autumn hair color is also quite different from before. More and more people choose to change from conservative dark colors to lively bright colors, they are constantly making bold attempts and explorations, adding a unique charm to themselves in the fall of 2022. Like blonde, red, ginger, pink, purple, brown, and so on. However, red-brown not only looks lively and bold but also contains an elegant and understated temperament. Let's take a look at the benefits of red-brown wigs.
Variety Of Colors
According to the different proportions of colors show different shades of reddish-brown. There are 13 different red-brown colors listed above, but there are many more actually. It can be seen that the charm and fashion trend of reddish brown, also because of the flexibility of its color, it will never go out of style, and it is suitable for any age and skin tone, it will be a good choice if you want to change your style.
Extraordinary Appearance
The reddish-brown makes the hair look soft and very textured. In addition, this hair color seems to be strong, but in fact, it seems to be a general coffee tone under different lights, it is a basic hair color that can be attacked and defended. The brown-red color matches well with the color of autumn leaves, giving people a warm feeling, being lazy, and showing the beauty of autumn. It is a hair color suitable for dyeing in autumn.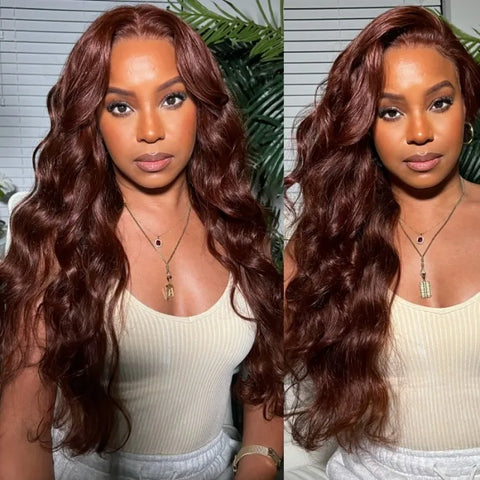 Textured
The red-brown wig uses high-quality human hair and high-definition lace, plus artificial hand weaving and sophisticated mechanisms weaving, as well as a high-comfort and breathable mesh cap. The Reddish brown's color transcends the classic red and takes it to the next level for a more striking and rich blend that can brighten and freshen your look straightaway. You have an extremely comfortable and pleasing feeling while having a naturally attractive appearance.
Multiple Options
A variety of reddish brown lace front wigs, you can choose from reddish brown curly wig, auburn wig, bone straight, water wave, body wave, deep wave, glueless human hair wig, and so on. You can see the largest collection of reddish-brown styles at Arabella Hair.
4.How To Care For Reddish Brown Wig
The correct use and care of the wig will affect his lifespan, if you are a wig lover and cherish your wig very much, you must know how to care for it correctly. 
Be Gentle When Combing a Wig
Do not use regular brushes, and if you can, only comb them. It doesn't need to be combed every day, so let it rest.
While You'Re Sitting At Home, Take It Off And Put It On a Wig Stand
The stand will help keep its shape and taking it off your head takes away from your tugging and pulling hairs out.
After Washing a Wig, Do Not Shake It In a Towel
Be careful and dry it piece-by-piece. This makes sure that strands of fibers don't fall off. Also, never style your wig while it's wet. Even those wet-to-style hair stylers are known to damage your wig.
After Saturating Your Wig In Water, Squeeze It Dry
Don't wring it or the base of your wig could become misshaped and dry funny.
While Washing Your Hair, Never Use Shampoo Meant For Natural Hair
Even though normal conditioner is OK, the shampoo is too harsh and can lead to hair falling out.
You Can Condition Your Hair Every Couple Weeks Or So, To Keep It Shiny And Soft
Make sure you don't do that every day and be sure to rinse it all out or it could lead to build-up in your wig.
Only Wash Your Wig After Wearing It 25 Times
If you do this daily or even weekly, it can lead to your wig looking less realistic and falling apart..
Conclusion
In this post we have shared some fashion messages related to reddish-brown wigs, hoping to help you a little. If you have some good ideas or problems, welcome to share them with us.