Short bob wigs human hair is more and more popular for black women especially young girls. Short Bob wigs are elegant and stunning in summer. Most people also want to do a style with a short bob wig human hair. Bob wig may be straight or wavy wave or curly. Arabella hair have straight hair bob with bangs, side part straight bob wig short human hair, fashion curly bob wig, etc. They are very affordable and suitable for college students. And short human hair bob wigs are easy to install and maintain. Choose one bob wig for your graduation. You will be the Prom Queen for 2020.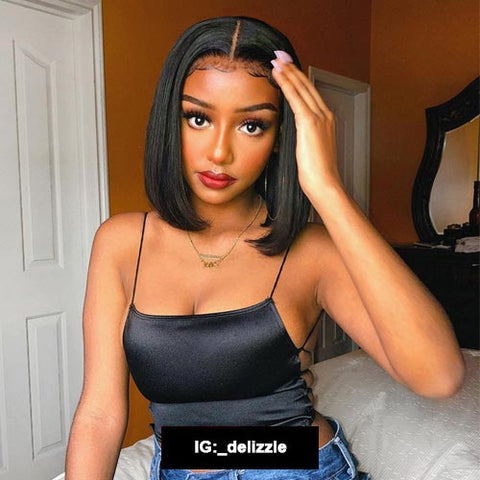 According to your face shape
You should consider your face shape before purchasing a short bob wig to avoid a bad look. Lady with round face always feel that they should wear longer hair wig in order to elongate their face. However, a gorgeous short bob wig human hair can also give you a perfect and stunning look. But make sure to avoid purchasing your bob wig shorter than your chin to shape your face.
If you have a perfect oval face, you can try almost all short bob wigs in different textures and lengths, no matter straight hair or curly hair. Bob wig is shorter, but it can make you look cool and elegant. Not like longer wavy hair, it will give you a sense of youthful, lovely, and neat. Just change your original style and make a change for your Prom.
Wear a short bob wig
Arabella human hair short bob wigs have a top quality and the transparent lace can match your scalp well. Wear a bob wig starting from the back of your head and pull the wig forward towards your hairline. Secure the bob wig with the 4 combs that are included the bob wig. Adjust the straps at the back of the bob wig to fit your head well. Sometimes you can also use glue or wig tape to lay down your edges of your wig on the hairline to achieve a natural look.
Maybe you find an exact style, texture, and length that you just want, but which color of bob wig can suit you well? A perfect gorgeous bob wig can completely change the way you look! We recommend trying colorful bob wigs which are most popular in this summer. We have more than 20 colors for 13×6 lace front bob wig. And the colorful bob wigs are also more breathable and comfortable.
About the textures of bob wig
Arabella hair have wavy wave bob wig, kinky straight lace front bob wig, curly Short Bob Wigs, short water wave bob wig, and loose deep wave short bob wig. For the hair type, we have Brazilian hair, Malaysian hair, Peruvian hair, and Indian hair, etc.
Can I wear a bob wig every day? It is OK to wear a short bob wig every day as long as you are taking good care of the short bob wig. Be sure to wash your short human hair bob wig and your real hair regular. Wear a silk sleeping cap or satin scarf at night in order to reduce the friction.
https://www.arabellahair.com/collections/bob-wig-1/products/summer-sale-water-wave-bob-lace-front-wig-13x4-inch-human-hair-lace-frontal-wig-14-sale-online
https://www.arabellahair.com/collections/bob-wig-1/products/human-hair-bob-wigs-4-4-inch-lace-front-wig-ombre-t1b-30-with-baby-hair
https://www.arabellahair.com/collections/bob-wig-1/products/13x4-bob-wigs-613-blonde-lace-front-human-hair-brazilian-straight-pre-plucked-with-baby-hair