Nowadays, there are plenty of wigs on the hair market. These wigs come in various lengths, making it easier for you to choose a particular length that suits your taste and preference. However, this can also confuse you and make it pretty challenging to choose the correct length.
Of course, choosing the best wig length is crucial because if you don't get the correct wig length, your expensive wig will not give you that elegant look you are yearning for. This might just lead to a waste of money- something that you wouldn't want. Thankfully, in this article, we give you tips that can help you choose the right wig length for you. We also discuss the most common wig lengths found on the market. Let's get started!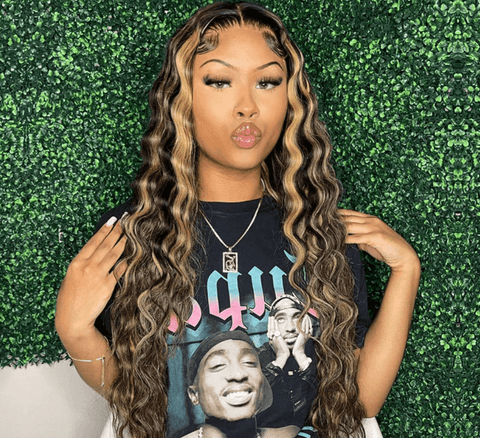 Before we even delve into tips to help you choose the right wig length, let's first understand what a wig length is. A wig length simply means the measurement of the wig from the roots at the top of the wig to the ends.
However, getting the correct measurements for curly wigs can be quite a challenge because the curly and wavy texture tends to make the wig look shorter than it is. So the best thing to do to get the correct measurements is to pull the hair straight.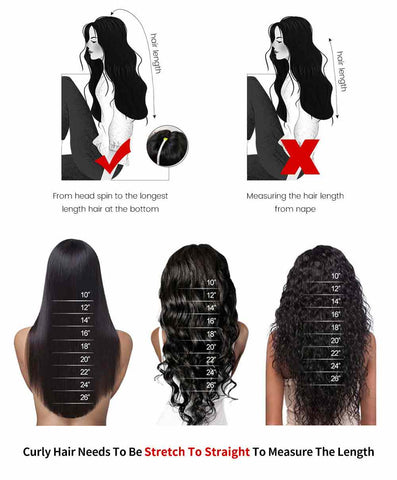 How to choose the best wig length that suits you well
To choose the best wig length for you, there are several things you should pay attention to. They include:
1. Your height
One of the things that you should pay attention to when buying a wig is your height. The length of the wig should complement your height. For instance, if you are not that tall, you shouldn't go for a very long wig. It will overwhelm you and make you look shorter. It is best to choose a short or medium-length wig. It will give people an impression that you are taller than you are.
2. Body shape
Your body shape and structure can also determine the length of wig you should buy. For instance, if you are taller and have a long body, a medium-length wig may appear shorter on you, making it not ideal for you. Similarly, a long wig can also accentuate your long neck. So before you choose a wig length, you must also consider your neck length and torso.
3. You face
When it comes to choosing the best wig length, the shape of your face is also another important factor that you must pay attention to. After all, you can choose any wig length of your choice, but if it doesn't complement the shape of your face, it is all going to be a waste. Therefore, when choosing a wig length, try to look for a wig length that perfectly suits your face. For instance, a short bob wig tends to fit women with square faces better. On the other hand, a medium-length wig with wavy or curly hair tends to look more fantastic on women with a diamond face.
4. Hair density
Finally, your hair density should also be one of the things that you take into consideration when choosing the correct wig length. Ideally, longer hair should have a higher density since it will help the wig look not only fuller but thicker too.
It is advisable to always go for longer lengths because you can always trim the extra lengths. But if the wig is too short, it may be quite difficult to extend its length, which means that you would have wasted your money if you find that it is not an ideal length for you.
Most Commonly Recommended Hair Lengths
12 inches hair length:
If you want to have a stylish haircut or messy haircut, then a wig of this length is best. It is not that long, but it will cover your ears and will give you a natural look. Additionally, this length is short, and you can easily wash it and fix it whenever you want to.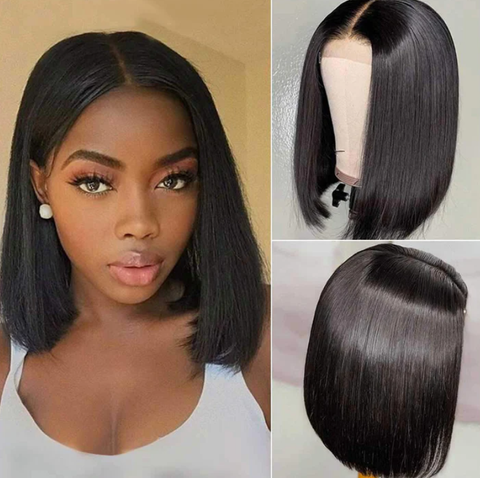 18 inch wig
If you are interested in a longer hairstyle, this wig length is perfect for you. This wig length is also quite convenient as it lands halfway down your back. It is also easy to control. You can tie it into a ponytail effortlessly for that chic look. 18 inch lace front wig length is one of the most common wig lengths and it is preferred by many women.
22 inch wig
The 22 inch human hair wig length will reach down your waist and give you that full and bouncy appearance. The best thing about this wig length is that you can achieve various hairstyles with it. Some of these hairstyles include braids, ponytails, updos, and many others.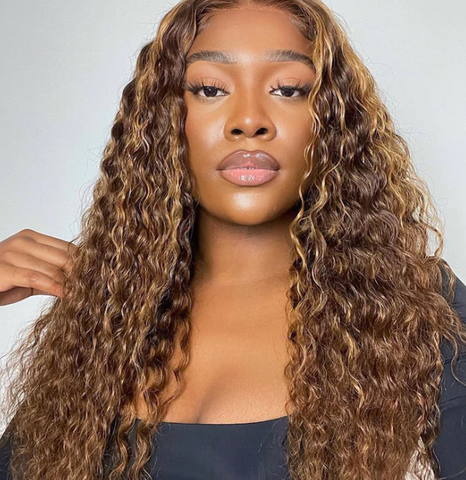 26 inches:
You can go for this style to make a vibrant appearance of hair and make it look more stylish. It not only looks perfect but also suits if you want to wear formal dresses or want to go out.